ISO 45001 certification: Occupational Health And Safety Management System
ISO 45001 is an internationally recognized standard for building and implementing the occupational health and safety management system (OHSMS) in an organization. This standard not only improves your OHSMS but also helps you in proactively recognize risks and take actions in order to prevent and mitigate them in the future. Kuwait is a fast-growing economy, with a number of industries popping up frequently.
Thus, getting an ISO  45001 certification in Kuwait will help your organization in gaining a competitive edge in the market. It will help in building the confidence of your workforce, clients, customers as well as your stakeholders that your business practices take well-being into consideration.
ISO 45001:2018 certification replaced the earlier OHSAS 18001:2007 standard. The organizations were given a window of three years to convert into this new certification. However, due to the current pandemic situation, this date might get extended.
Industries of all types and sizes can apply for ISO 45001 certification. The main aim of this certification is to establish a safe and healthy work environment as well as ensure a continual improvement of the OHSMS performance.
Benefits of ISO 45001 certification:
Becoming ISO 45001 certified comes with its own set of benefits. They are as follows:
Reduction in liabilities cost by preventing any incidences of occupational injury or accidents.

Reduction in the count of lost days due to injuries.

A reduced insurance costs

Reduction in absenteeism

Enhancement in motivation of the workforce

The transparent processes enable increased flexibility in terms of adoption of changes.

It makes you legally compliant

It also helps in protection of confidential data from hackers' attacks.

It enables the organization to recover faster in the event of any hazard.
What types of organizations are eligible for ISO 45001 certification?
In a highly competitive market, it becomes quite difficult for most of companies to stay relevant. With the growing consumerism, the demand and expectations of customers are exponentially increasing. Organizations are now needed to ensure that they are capable of functioning smoothly even in times of crisis. The customers, workforce, clients, and stakeholders need to be assured that their safety and well-being are being taken care of. The best thing about ISO 45001 is that it can be applied to industries of any scale and type.
Requirement of ISO 45001 certification:
The compulsory requirements for the effective implementation of OHSMS in an organization are listed in sections 4 to 10 of the Annex SL of ISO 45001. The first three sections in this document are just introductory in nature.
Section 4: Context of the organization– It refers to the factors, both internal and external, that affect your organization and the concerned people, including contractors and sub-contractors.
Section 5: Leadership– It involves ensuring that your staff has tools and resources for running the OH&S management system; and communicating the roles and responsibilities clearly.
Section 6: Planning– Identifying and managing OH&SM risks so that your organization is able to react and adapt to the changes. This also requires well-structured communication between the personnel.
Section 7: Support– This requires providing tools and resources for proper implementation and maintenance of OHSMS.
Section 8: Operation– This involves assessing the existing procedures and complying with the legal obligations. Regular and formal risk assessments are the key requirements.
Section 9: Performance evaluation– setting the right criteria for evaluating the performance of the OH&S management system.
Section 10: Improvement– Regular monitoring, evaluation, and gradation ensure continual improvement.
ISO STANDARDS
Download Forms
There are numerous procedures that a company needs to follow in order to get ISO 45001 certified.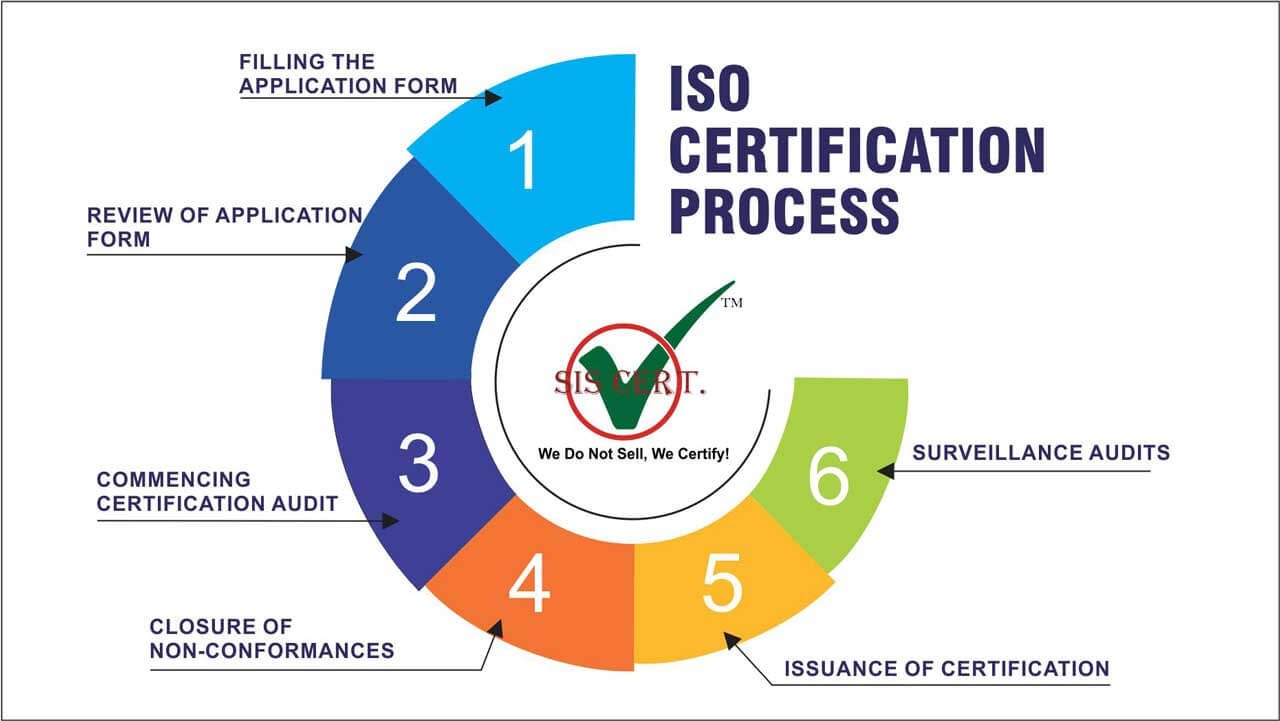 FILL OUT THE APPLICATION FORM:
During the application process, you are required to provide details about your business and certification requirements to the certification body.
REVIEW OF THE APPLICATION PROCESS:
The technical team at SIS Certifications will review and verify the specific details provided by you in the request form. The customer is then obliged to accept and sign the certification proposal.
BEGINNING OF THE CERTIFICATION AUDIT:
Beginning a certification audit involves two phases:
Stage 1 is a documentation audit and Stage 2 is the Primary Audit.
Phase 1 (DOCUMENTATION AUDIT)– At this stage, the auditor of the certification body verifies the preparedness of the organization for stage 2 audit based on procedures.
Phase 2 (PRIMARY AUDIT)– This verifies the extent of the fulfillment of the standard requirements.
CLOSURE OF NON-CONFORMANCES:
After the non-conformances identified by the ISO auditor, you must implement measures to close them.
ISSUANCE OF CERTIFICATION:
When all non-conformances are closed and all findings are documented in the ISO review report, the concerned body, such as SIS Certifications, will provide you with the required ISO certification.
SURVEILLANCE AUDITS:
Now, getting an ISO 45001 certification in Kuwait has become much easier. With its operations across all the major cities in Kuwait, such as Al Jahra, Kuwait City, Mangaf, Fahaheel, Hawally, Ahmadi, and many more;
This is an audit that is performed periodically to ensure that your management system continues to meet the requirements between audits.
It must be noted that the International Organization for Standardization (ISO) does not certify, it just publishes the ISO standards. An external body performs the certification. SIS Certifications is one such body that has a reputation for being one of the best in the world. Our vast pool of auditors is recognized for their expertise in comprehensively auditing the compliance of your management systems against the required standards and awarding you with the certifications at the end. The smoothness in the process, our integrity, and our commitment to deadlines make us stand apart from other certification bodies.
Trusted by the world's fastest growing companies:















Get a certification
Unit No. 514, 5th Floor, Vipul Business Park, Sohna Road, Sector-48, Gurgaon- 122018, Haryana, India.
Branch Office (Kuwait)
Jaber Al Mubarak Street, Block 04, Sharq District, Nouf Tower 16th Floor, Unit 06, Kuwait
support@siscertifications.com
Monday & Saturday: 8am — 6pm
Sunday: 11am — 4pm